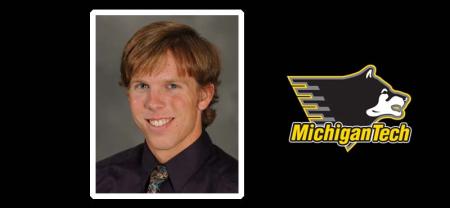 HOUGHTON, Mich. – Michigan Tech athletic director Suzanne Sanregret announced that former Michigan Tech student-athlete Andrew Joda has been hired as the associate head coach Nordic skiing/assistant coach cross country and track and field.
"I am really excited to return to Michigan Tech," said Joda. "Michigan Tech means a lot to me after being a student-athlete for the Huskies. I am looking forward to helping the student-athletes improve and excel."
Joda has served as a volunteer coach with the Peak Nordic Ski Club for the past year, and served as a graduate assistant coach with the Huskies following his collegiate career. He was a member of both the cross country and Nordic ski teams at Tech earning All-American honors at the US Junior National Skiing Championships.
Head Coach Joe Haggenmiller commented: "I am excited to have Andrew join the coaching staff. I know he will bring energy and enthusiasm to the position. He will be a great resource for the programs. Andrew's hard working attitude and knowledge of Michigan Tech will pay dividends for each program."
Joda, who earned a bachelor's degree in electrical engineering and materials sciences and a master's degree in electrical engineering, spent the last year as an engineering associate with Union Pacific Railroad. He will begin his duties in early October.