CCSA teams met in Cable, Wisconsin this weekend for the Gitchi Gami Games at the famous American Birkebiner start line. While typically the college teams will compete in two races in a weekend- this weekend, many of the college teams chose to forgo Saturday's Skate Sprints because they did not count for NCAA Qualifying. 
Regardless, Saturday's skate sprints allowed for some standout performances from CSS and GB athletes. In the Men's final, Green Bay athletes finished 1, 2, 4, and 5 with redshirting freshman Jackson Adler edging out Sam Myers for the win. CSS skiers Jack Christianson and Cody Schneider were in the mix finishing 3rd and 6th. On the women's side, Maria Schoening of Green Bay had a dominant day, winning every single heat she was in. "I definitely surprised myself in the heats. I just focused on pushing myself up and over the top of that gnarly hill and into the finish!" Schoening ended up dominating the final, winning by four seconds. CSS women Mae Barnes and Annika Viren capped off their strong days with 2nd and 3rd.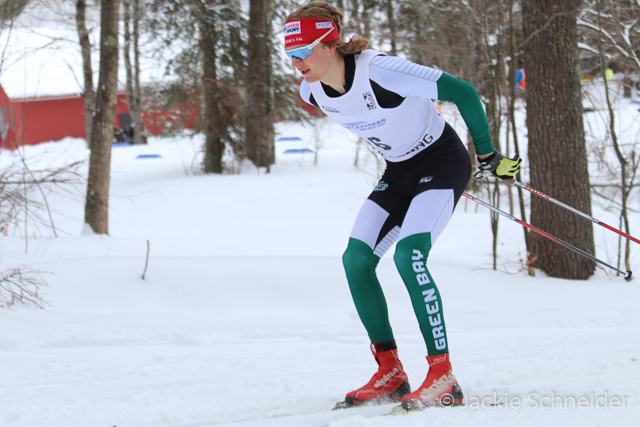 On Sunday, the force of all whole CCSA came out again, with every team showing up to battle it out. On the men's side, there was no surprise that Kjetil Bånerud (NMU) won the individual start by 17 seconds. Coming off of strong performances from last weekend, Mathias Rolid (NMU) and Emil Book Bratbak (NMU) finished within the same second to place 2nd and 3rd. Patrick Acton (MTU) finished 4th, and Daniel Streinz, finished 5th, pushing NMU to the win. "I started this fall out lacking fitness due to being sick for 2 months in late summer," Streinz wrote, "But it seems I've gotten into good enough shape for racing and I've been exceeding my expectations." Nick Matelich had a standout day finishing in 7th, leading the CSS Men's team to possibly the biggest upset so far this season, over MTU, finishing 2nd.  Joshua Albrecht of MTU had his best race this season, finishing in the top 10. "During the race, I made a stronger effort to start fast and not lose sight of the two people in front of me, since starting 3rd meant I didn't have many good drafting opportunities on the first lap. I also focused on having a strong last lap, as I knew the last kilometer was a rest into the stadium. My new season goals will be to finish top 10 in each race to have the opportunity to be a scoring member of the team." Shad Kraftson led the way for Green Bay, finishing in 16th, and Kieran Mullen led St Olaf in 26th.
The women's race was just as competitive, with only 10 points between Michigan Tech and NMU for the team win. Sarah Goble has been a strong contender this season, and she added another win to her belt today, as she led MTU to a team victory. One of the strongest performances of the day went to Oda Hovland (MTU) who finished in 2nd. "I started hard and got good splits for all of my laps which of course helps a lot, and I got podium splits from the beginning so that was cool!" NMU's three team scorers, Malin Boerjesjo, Molly Miller, and Nadine Matter took the next three positions to push NMU to 2nd as a team, but the Wildcats showed their depth as each one of their women made it into the top 10. "Today it felt like I had a really good average pace, " Boerjesjo said, after coming in 4th, "but I still feel that the top speed is not really there yet, so that will be my focus in training, forward". Lara Ketterer (GB) is fighting for an NCAA spot, finishing the day in 13th and Samantha Benzing (CSS) is right on her tail, in 16th. Erica Meyers was the top finisher for St Olaf, and freshman Cheresa Bouley was the top Saint Cloud State skier. 
Next weekend is in Rhinelander, Wisconsin, hosted by Green Bay's Nordic team. Rhinelander will be the last races before a week break, and then the Conference Championship in Houghton, MI.