NCAAs is March 12th and 14th in Bozeman, Montana. CCSA Teams are already making their way out West, a week and a half in advance, to adjust to the altitude, as Bozeman approaches 5,000 feet above sea level. The Central region had 8 men's spots and 7 women spots for Nations this year, based on the previous year's results, but each team is only allowed to send a maximum of three athletes. Both Northern Michigan University and Michigan Technological University are sending full mens and women teams to NCAAs, while the College of Saint Scholastica sends two men and the University of Wisconsin- Green Bay sends one woman.
The CCSA is sending a strong crop of athletes to compete against the best collegiate athletes in the United States. There are quite a few athletes from the Central Region who look to be in the running to grab an All American place at this NCAA National Championship (Top 10 in either race). The top 10 in the Central Region on both the men's and the women's side has been very close all season, but there are some standouts who have a chance of making a splash on the big stage.
On the men's side, Mathias Rolid (NMU) finished the season with a big bang, being the leader in the Region's point's list and coming away with the most amount of wins. Expect to see him high up on the results list in both the 10k skate race and the 20k classic mass start, as he has been the most consistent athlete this season. Right on his heels, be on the lookout for Kjetil Bånerud (NMU). He has already proven that he can not only compete well at altitude but also at NCAAs, as he was an All-American in 2018 when NCAAs was in Steamboat. Bånerud started the season out with a bang, and was undefeated in the CCSA for the earlier part of the season, but was swept under the rug in the second half of the season when Rolid went on his rampage. Nonetheless, Bånerud should not be underestimated. He still finished 2nd in the CCSA points and is a fierce racer and competitor, so expect to see a standout performance from him in either the skate or classic race. Another skier to watch is CSS's Emil Book Bratbak. Bratbak had a very solid season, finishing it off with a win at the NCAA Central Regional Championships, the first Regional win for CSS ever. Anticipate Bratbak to have a strong and tactical race in the 20k Classic Mass Start. Wildcards include the MTU duo of Reid Goble and Patrick Acton. This is each Goble's and Acton's 2nd NCAA appearances, and they both have popped out strong performances this season.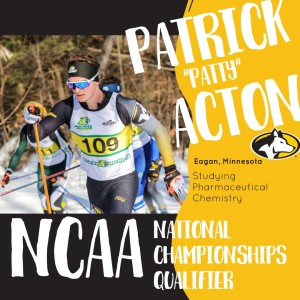 On the women's side, it is just as much of a toss-up. Malin Bojesjo makes her NCAA debut, and she could have strong performances in either the 5k skate race or the 15k classic race, as she leads the Central women in points from the season. She has been the most consistent female competitor this season, so we put our bet on Bojesjo at for having a knockout performance at Nationals. Sarah Goble (MTU) and Amanda Kautzer (MTU) are both NCAA veterans in this CCSA women's field, but they, along with the Canadian freshman, Molly Miller (NMU) will fight exhaustion and jet lag as they arrive back to the US from U23/World Junior National Championships in Germany. Nonetheless, expect Goble to have an assertive 5k skate race, and Kautzer to stand out in the 15k classic race.
At US Nationals in Houghton, Michigan, in January, the CCSA teams had really strong showings, with 3 men teams in the top 6 and 2 women teams in the top 3 in the College Cup. Not all of the Eastern and Western teams had their full squads, but it gives a decent prediction that the Central Region competitiveness within the NCAA is only growing year after year.
 Outside the CCSA
Expect the Western Conference (Rocky Mountain Intercollegiate Ski Association) to look very strong this spring. Based on this season's results, virtually, any member of the University of Utah's Men's Nordic Ski Team could win a National title on a given day. Especially strong is American Luke Jager (who just nabbed a top 10 at World Juniors), Samual Hendry, and Maximilian Bie. Also, keep an eye on the University of Colorado's Magnus Boee and UAA's Sigurd Roenning. In the Eastern Conference, one men's team stands out, and that is the University of Vermont. Compiled by Karl Schulz, Bill Harmey, Matias Oevrum, and Ben Odgen,  UVM could put their whole team of three in the top 10 of the NCAA on a good day, and it will be interesting to see the Kings of EISA match up with the Western and Central schools. Also, keep an eye out for Remi Drolet (Harvard). This freshman is known for competing well in high stakes situations, and he may be able to pop out a strong race despite the odds.
Similar to the men, the RMISA women are very strong. The CU and UU's women team are especially strong, with Leah Lange (UU), Guro Jordheim (UU), and Anne Siri Lervik (CU) making strong statements throughout the season. Eveliina Piippo (DU) also finished her season very strong, so she may be one to look out for at Nationals. It would also be impossible not to bring up the returning Skate NCAA National Champion, Julia Richter (UU), as a strong contender.
  The other returning National Champion hails from the Eastern side of the NCAA, with the Eastern Intercollegiate Skiing Association. Katerine Ogden, a 3-time NCAA National Champion is leading a very strong Dartmouth team that has been having performances in the Eastern Carnivals.  Alexandra Lawson and Sophia Laukli have been nipping on Dartmouth's toes with a stacked up and coming Middlebury team, and Evelina Sutro (UVM) should be one to watch out as well at the NCAA National Championships.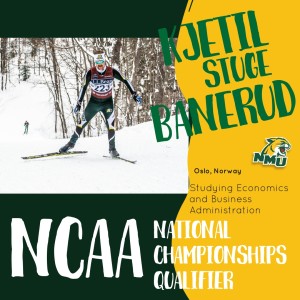 The countdown for NCAA begins!!