Coleraine, Minnesota brought frigid temperatures this past weekend, causing both Saturday and Sunday's races to be delayed. Despite this, CCSA racing came back to the Midwest, with exciting finishes and results.
Saturday's Skate Individual Start started out with a bang, with this season's favorites, Anabel Needham and Henriette Semb taking the 1,2 for Michigan Tech. Merle Richter (NMU) came into 3rd, nabbing her first CCSA podium of her career. "Going into the weekend I just wanted to enjoy the variation in races (switched interval start and mass start) and have fun," said Needham. One of our team goals this year was to sweep the podium and I really want that to happen, so having Henriette and our teammates so close to meeting this goal is so exciting! Over the next few weeks, I want to race hard and smile before each one with my teammates. We're going to have a great season and I can't wait to see what we accomplish!"
On the men's side, Kjetil Banerud (NMU) had a dominant win, creating a minute gap over 2nd place and teammate Kristoffer Karsrud. Skylar Patten (MTU) continued his strong season, rounding off the podium. "I came into the weekend feeling ready to put together a set of good races after a somewhat disappointing US Nationals," said Banerud. "I decided to open pretty hard on Saturday and build upon a strong first lap. I felt like I was moving well and when I got splits on all the three laps I understood that I was having a good race."
Despite the large gaps in Saturday's individual results, Sunday's mass starts led to some competitive racing and exciting finishes. In the Men's 10k mass start, Kjetil Banerud (NMU) tried to break away on the first lap but was caught by the chase group made up of Emil Book Bratbak (CSS), Kristoffer Karsrud (NMU) and Skylar Patten (MTU). Karsrud and Banerud led into the finish but were outsprinted by Book Bratbak, who nabbed the win. "I came into Sunday's race with two different approaches, either go hard from the gun or wait and see how the race developed," said Banerud, "I ended up doing something in between, starting to push the pace after 2-3km. I got a little gap at one point, but felt like I was struggling too much on the uphills to stay away from the chasing group."
The women's race was equally exciting, with a pack of Michigan Tech and Northern Michigan Women fighting for the win the entire way. With the top 3 finishing within a second and a half, Henriette Semb (MTU) took the title of the day over Anabel Needham (MTU) and Merle Richter (NMU). "This weekend was all about having a great time with the team and surviving the cold weather!" commented Semb "Sharing the podium twice with my very best roommate Anabel, and having generally awesome team results is just a perfect start for our college season! It makes us proud and excited for what's ahead. With classes starting and homework piling up my only focus was to not stress myself and to maximize recovery prior to the races – while also enjoying the very best skiing in the Keweenaw".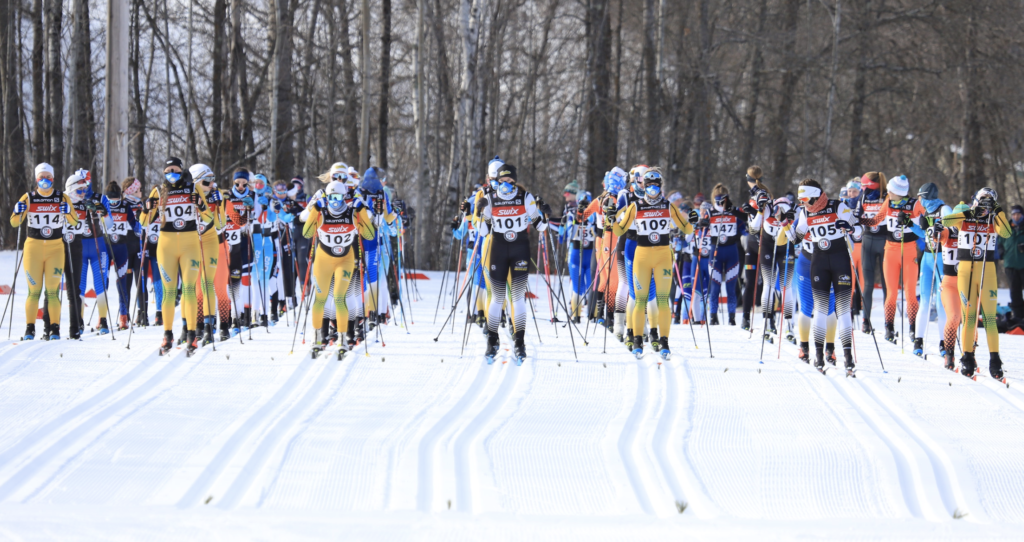 The CCSA makes its way up to Houghton next weekend for their last race weekend before Championship season starts. The CCSA Conference Championship is in Ishpeming, MI Feb 12-13, followed by the NCAA Central Regional Championships in Duluth Feb 19-20. Top athletes will then travel back to Soldier Hollow March 9-12 for the NCAA National Championships.