Competitive skiers from around the US came to the Midwest this past weekend for the first races of the season in Duluth, Minnesota. Despite the addition of accomplished competitors, the CCSA athletes held their own, having strong performances both Saturday and Sunday.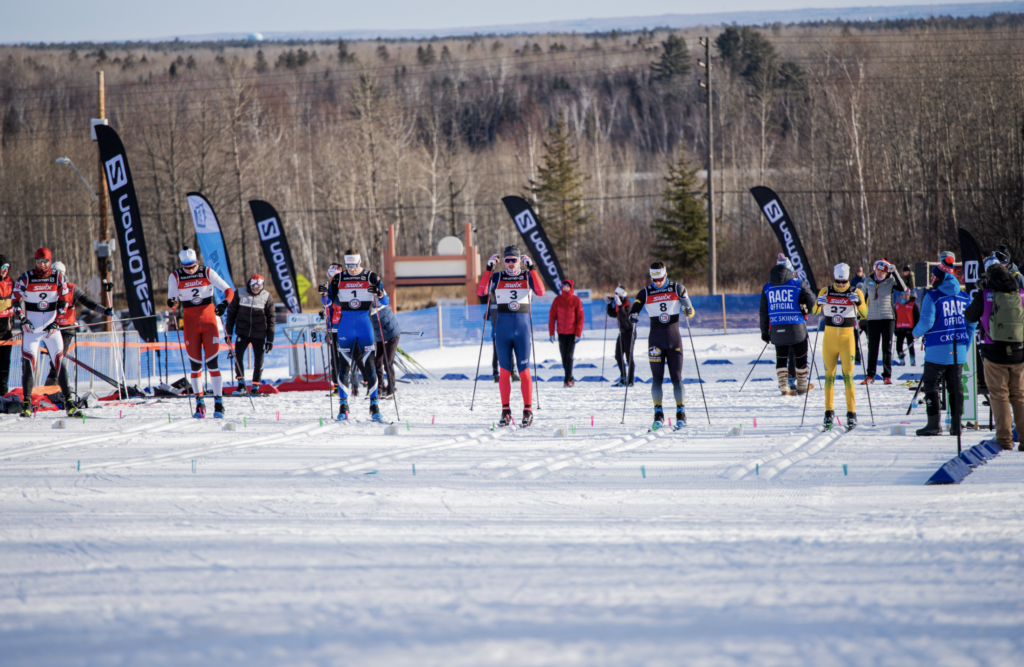 Saturday was a skate sprint, fast from the cool, icy snow and many CCSA athletes had strong qualifier performances with 7 men and 9 women placing top 30 and moving into the SuperTour heats. Stand-out performances include Katerina Hyncicova (NMU), Anabel Needham (MTU), and Henriette Semb (MTU), Kjetil Banerud (NMU), Emil Book Bratbak (CSS), and Adam Witkowski (MTU) who all made it into the semi-finals. Witkowski had the top performance of the day, podiuming in 3rd, and teammates Banerud and Hyncicova placed 6th in their finals. "Coming into the weekend I was just hoping to have two solid races to start the season and get back to racing well again," said Witkowski. "In the sprint, I knew I could race with the top guys and I had confidence in my tactical approach to the heats. I didn't have my best top gear but I was still feeling very good on Saturday." Lauren McCollor (NMU) had strong performances throughout the junior finals, placing 2nd.
Sunday's conditions were a stark contrast to Saturday's sunny and speedy atmosphere. Snow started falling Saturday night, came down relatively hard Sunday morning, and turned into a frozen rain early Sunday afternoon, creating a slow and laborious distance event. In the women's 5k, Henriette Semb led the CCSA field in 16th, proving once again that the MTU women will be the team to watch this year. "I was very nervous prior to this weekend but also super excited to finally race again," said Semb. "Sunday was a tough day with a lot of snowfall in the morning and tired legs from Saturday. Still, I think I put down a solid effort and it was to me, a promising start to the season. I'm stoked for the challenges awaiting ahead, and I think the hard work we've put down in Houghton this fall will pay off for our whole team". Savanna Fassio (NMU) finished 2nd for CCSA women in 18th, breaking up what would've been an MTU CCSA podium, as Anabel Needham and Olivia Laven finished 19th and 21st. Cheresa Bouley from St Cloud State University was the lone athlete from her team competing in Duluth but rounded out a very strong weekend in 25th, and 4th CCSA woman.
On the men's side, Kjetil Banerud proved why he was the top returning CCSA man as he placed 2nd overall in the 10k, dominating the collegiate field. Teammates Skylar Patten and Adam Witkowski tied for 2nd CCSA men with 31st place, Tobias Moosmann placed 35th and Gus Schatzlein (CSS) was 37th. "I came into this weekend without a whole lot of expectations," wrote Schatzlein, " I went into the distance race pretty confident I could race well, but the new snow definitely made the race difficult and I could tell it was my first race on snow. The distance course really suits me because it features a lot of right-side V1 and I'm super familiar with our home course. After last year, where I didn't get to race a whole lot, it was really exciting to start this season with a SuperTour and seeing lots of friends here in Duluth". The SuperTour continues in the Midwest next weekend, in Cable, WI.